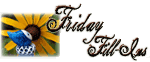 And...here we go!
1. I was
up late last night, because of the full moon I guess. Hopefully I'll fall asleep soon.
2.
Once we sang at a church about 30 minutes away
and I left my book
(my song book) I didn't get it back for a long time.
:(
3. Why
does it take so long to clean a house and so little time to

UN-clean

it?
4
. God
was in my thoughts today.
5. One of my father's favorite sayings was ......
Well my Dad was a wise man of few words. He didn't really have any "sayings".
6.
My ten year old banged her knee on the coffee table while dancing a bit ago
--I know that feeling!
7. And as for the weekend, tonight I'm looking forward to
Maybe visiting some family
, tomorrow my plans include
Yardwork and stocking up on groceries
, and Sunday, I want to
go to church, and then get ready for another week of homeschool. We're almost done, and ready for summer break!

Thanks for reading, There are more FFI lists here.