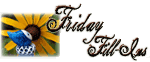 And...here we go!
1. Where are my
priorities lately
?
I've GOT to get my spring cleaning finished
!
2. If wishes were horses
we'd run out of hay
.
3. I'd like to see
Lincoln Brewster in concert again.
We saw him in Silver Dollar City, but he got rained out after the third song.
4. When I was a teen, I thought
I knew a LOT more than I really did.
5. One of my mother's favorite sayings was,
"It's not late until 2 and then it's 2 late".
(seriously)
6. I'd have a hard time doing without my
coffee
.
(I actually get headaches if I don't have it by noon.)
7. And as for the weekend, tonight I'm looking forward to
family movie night
, tomorrow my plans include
a hoedown at a homeschool family's farm,
and Sunday, I want to
go to church, read my Bible and hopefully spend time with family
!
Thanks for reading.
MORE Fill-Ins
here
.