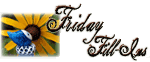 And...here we go!
1.
Potato salad's
the best food to take on a picnic.
2. Summer
is wonderful
.
It's my favorite season.
3.
My husband will "not" wear
flip flops.
Not even just to walk to the pool.
I love them.
4. To love someone is
a risk, but nevertheless a privilege
.
5.
It's a little too hot here now for
a long hike.
6. When I crave food, it's usually
chocolate
.
Most times when I crave food I don't know what it is I'm craving.
7. And as for the weekend, tonight I'm looking forward to
family movie night
, tomorrow my plans include
spending the last Saturday with my hubby before he starts back to school
and Sunday, I want to
go to church, and get ready for Memorial Day Monday, and hopefully a cook out
!
Have a great Memorial Day weekend. Thanks for reading. More FFI
here
.